FACTS ABOUT ELEPHANTS' BODIES
1) African Bush Elephants are the largest land animals in the world. Males can grow up to 13 feet tall at the shoulders, measure up to 30 feet from trunk to tail, and weigh up to 14,000 pounds. Perhaps that explains why Elephants are the ONLY mammals that cannot jump!
2) An elephant's trunk weighs around 400 pounds and contains around 100,000 different muscles. But, thanks to finger-like appendages at the tip, they're also nimble enough to pluck a single blade of grass.
3)  Unless you're ambidextrous, you probably prefer to use one hand over the other. Elephants are the same way about their tusks: Some are "lefties," others are "righties." They'll favor that tusk when fighting other Elephants, picking things up, or stripping leaves and bark off trees. Because of constant usage, their preferred tusk gets shorter over time.
4) Elephants have highly developed brains, not to mention the largest in the entire animal kingdom. Their brain is 3 or 4 times larger than that of humans, although it is smaller in proportion to their enormous body weight.
5) Elephants have an extremely slow pulse rate, around 27 beats per minute. Compare that to the average human (80 bpm), or Canary (1000 bpm).
6) The elephant's trunk, which is called a proboscis, contains 16 muscles. It's very similar to that of their ancient ancestors, the mammoth and mastodon, with a large muscle on the top and sides of the trunk allowing elephants to raise it. There are also thousands of smaller muscle fascicles, or bundles of muscle fibers, that allow for finer movements of the trunk.
7) Elephants are incapable of jumping, but these massive mammals can run at a maximum speed of 25 miles (40 km) per hour. Yet even when they are moving at their fastest, they still keep at least one foot on the ground at all times.
8) Asian elephants have one more toenail on each foot than African elephants. Asian elephants have five toenails on the front feet and four on the back feet, while African elephants have four on the front and three on the back.
9)  If you've ever seen photos of baby elephants, you know that their bodies are covered in short hair. The growth of this hair reduces over time, as they age. Unlike the hair on most mammals, the hairs on an elephant aid in cooling down its body in the hot climates of Africa and Asia.
10) In comparison to their African counterparts, Asian elephants have much smaller tusks. The tusks on many female (and sometimes male) Asian elephants, which usually measure just one or two inches in length, are called "tushes."
11) The skin of an elephant may look more wrinkled than your 80-year-old granny. But it actually helps to keep their skin healthy by holding in moisture. After they take a mud bath, the moisture of the mud remains in the wrinkles to continue softening the elephant's skin.
12) If you've ever been up close to an elephant, you may have noticed their incredible eyelashes, which can grow up to five inches in length. Studies have shown that the the ideal length for eyelashes is approximately one-third of total the length of the eye, which helps to prevent the eyes from drying out.
13) Elephants have incredibly poor digestion, with only 50% efficiency. As a result, they release an incredible amount of gas (methane) and produce around 250 pounds of manure a day!
READ MORE: Saving Asian Animals: The Best Wildlife Conservation Programs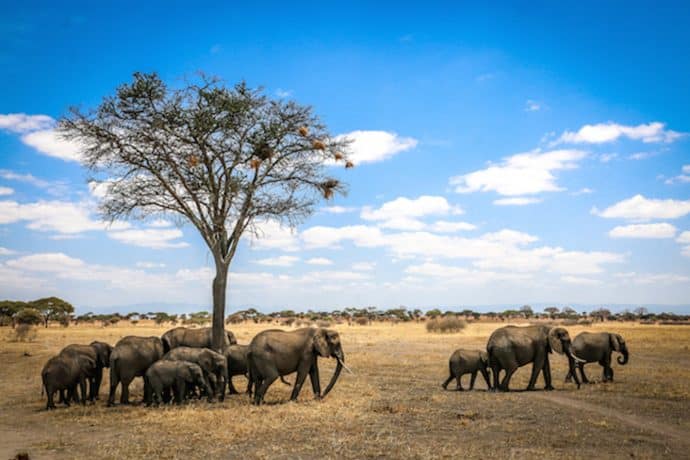 FACTS ABOUT ELEPHANT COMMUNICATION
14) Elephant skin is over an inch thick. But because it's loaded with nerve endings, their skin is also highly sensitive. Elephants from the same herd will often use touch to greet each other, either wrapping their trunks around each other or giving each other friendly "hello" taps on the body.
15) In addition to the familiar trumpet blast sound they're known for, Elephants also purr much like cats do.
16) Research has shown that Elephants communicate over long distances using a sub-sonic rumble that can travel over the ground faster than sound through air. Other Elephants receive these messages through their feet and trunks. Scientists believe that this is how potential mates and social groups communicate with each other.
17)  Elephants are highly sensitive and caring animals. If a baby Elephant complains, the entire family will go over to touch and caress it to soothe it.
18) Elephants often pay homage to the bones of their dead, gently touching their skulls and tusks with their trunks and feet. When an Elephant walks past a place where a loved one once died, it will stop in its tracks. This silent pause often lasts several minutes.
19) Elephants are highly intelligent animals, and studies have shown that they possess a variety of complex emotions and feelings, including deep compassion and surprising self-awareness. Like humans, elephants have large cortexes in their brains and are not born with survival skills. They have to learn these skills from older elephants in the early years of their lives.
READ MORE: Exploring Magical Tarangire National Park, Tanzania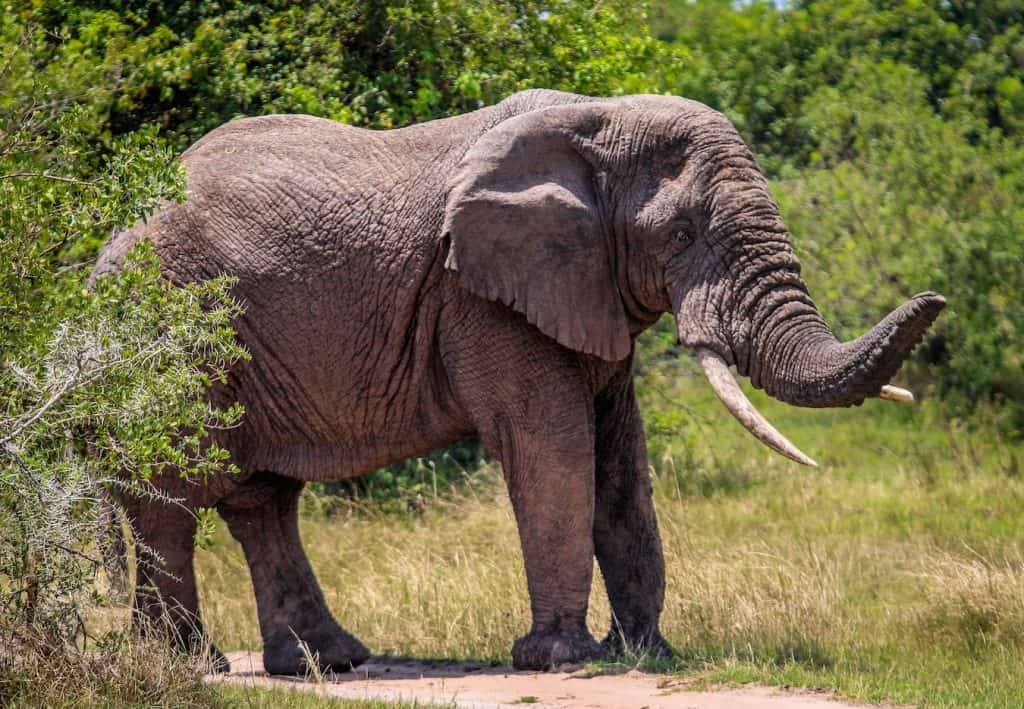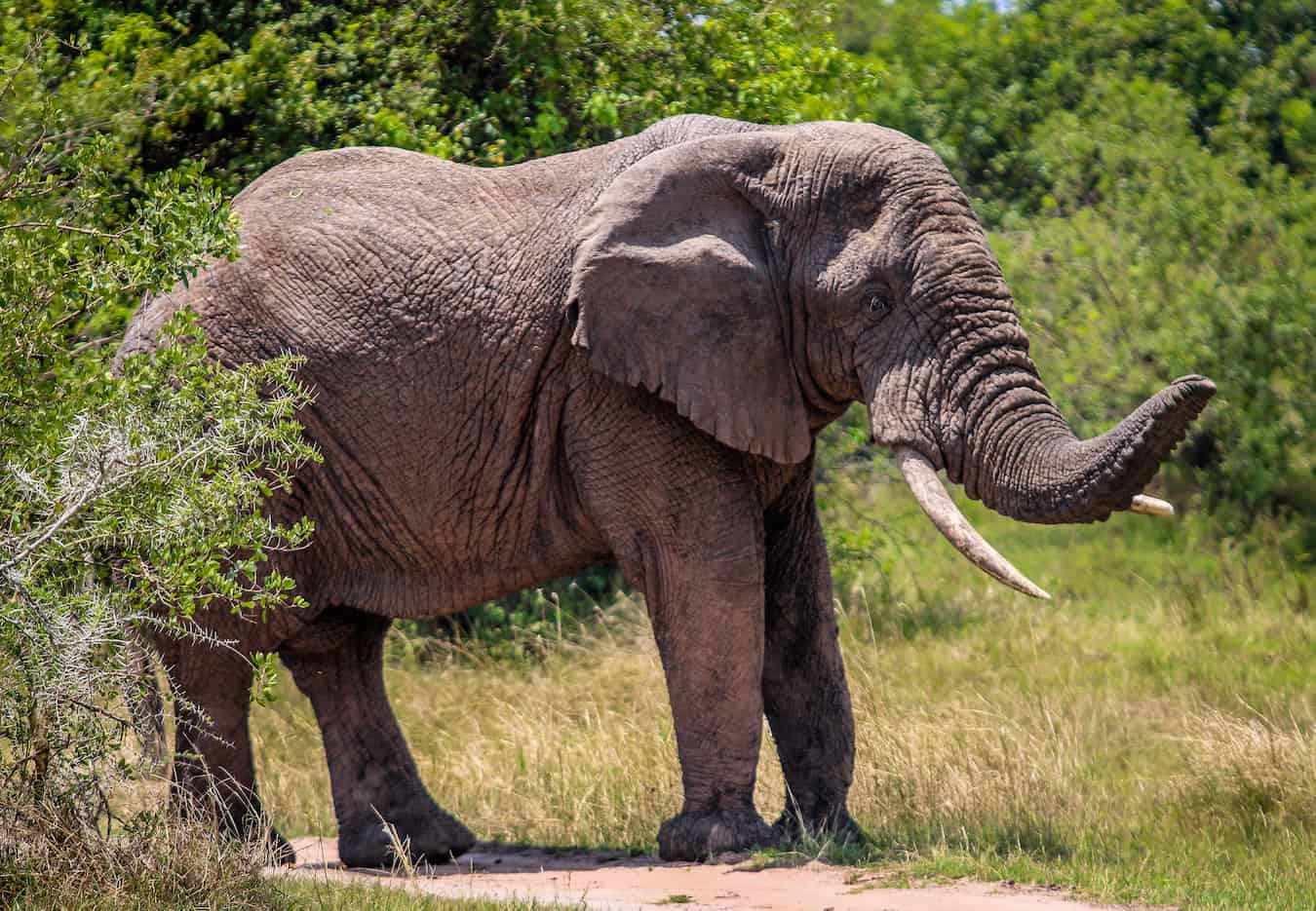 FACTS ABOUT ELEPHANT BEHAVIORS
20) Elephants have deep family bonds and tight-knit groups of related females and their offspring.  Each herd consists of anywhere from 8-100 Elephants, all led by the oldest (and often largest) matriarch. When a calf is born, it's raised by the whole herd. Males usually leave the herd between the ages of 12 to 15, living solo or temporarily hanging out with other males.
21) You know how they say "an Elephant never forgets"? Research has proven that they are extremely intelligent. And their memories are vital during the dry season, when matriarchs guide their herds– over for countless miles– to watering holes they've visited in the past.
22) Elephants are herbivores and need to consume 300-400 pounds of food per day. In additions to grasses, leaves, bamboo, bark and roots, they also known to eat crops like banana, sugarcane and– the African Elephant's favorite– sweet marula fruit.
23) Elephants can give birth until they're 50 and can live to be over 70 years old. The oldest on record– an Asian Elephant named Lin Wang– died at the ripe old age of 86.
24) In addition to smelling, trumpeting, drinking and grabbing things, Elephants can use their trunks to breathe (like a snorkel) in deep water. In this way, they can swim fairly long distances.
25) Elephants must migrate seasonally in order to find food, relying on their memories of previous food and water supplies (hence the old saying, "an elephant never forgets"). They will also migrate to avoid poachers and other threats, even moving during the night to avoid traveling during the daytime, when poachers are most active.
26) On average, elephants spend about 16 hours of each day eating everything from grasses, small plants, and bushes to fruit, twigs, tree bark, and roots. Part of the reason they eat so much for so long is because they ultimately digest very little of the food they eat. So they need to consume more food in order to ensure they are properly nourished.
27) While they're migrating in search of food, elephants spread seeds around the land where they have eaten, making them an important part of their ecosystems. After eating, seeds are released through elephant dung. One South African study found that elephants are capable of transporting these seeds up to 40 miles!
28) In addition to eating massive amounts of food, adult Elephants drink 30-50 gallons of water every day. They use their trunks like a massive straw to suck the water up, but then they actually squirt it into their mouths to swallow it. During the dry season they'll dig to find water, making huge holes in seemingly dry stream beds with their feet, trunks, and tusks until they reach the water supply. In this way, they also create watering holes for other animals to drink from.
29) Elephants are known to be social creatures, and female elephants in particular. Elephant herds are matriarchal, with older females taking turns taking care of the calves and protecting them while traveling from place to place.
30) The family structures of Asian elephants are somewhat smaller than those of African elephants, which often number up to 25 individuals. Depending on the availability of food, elephant families can split into smaller units.